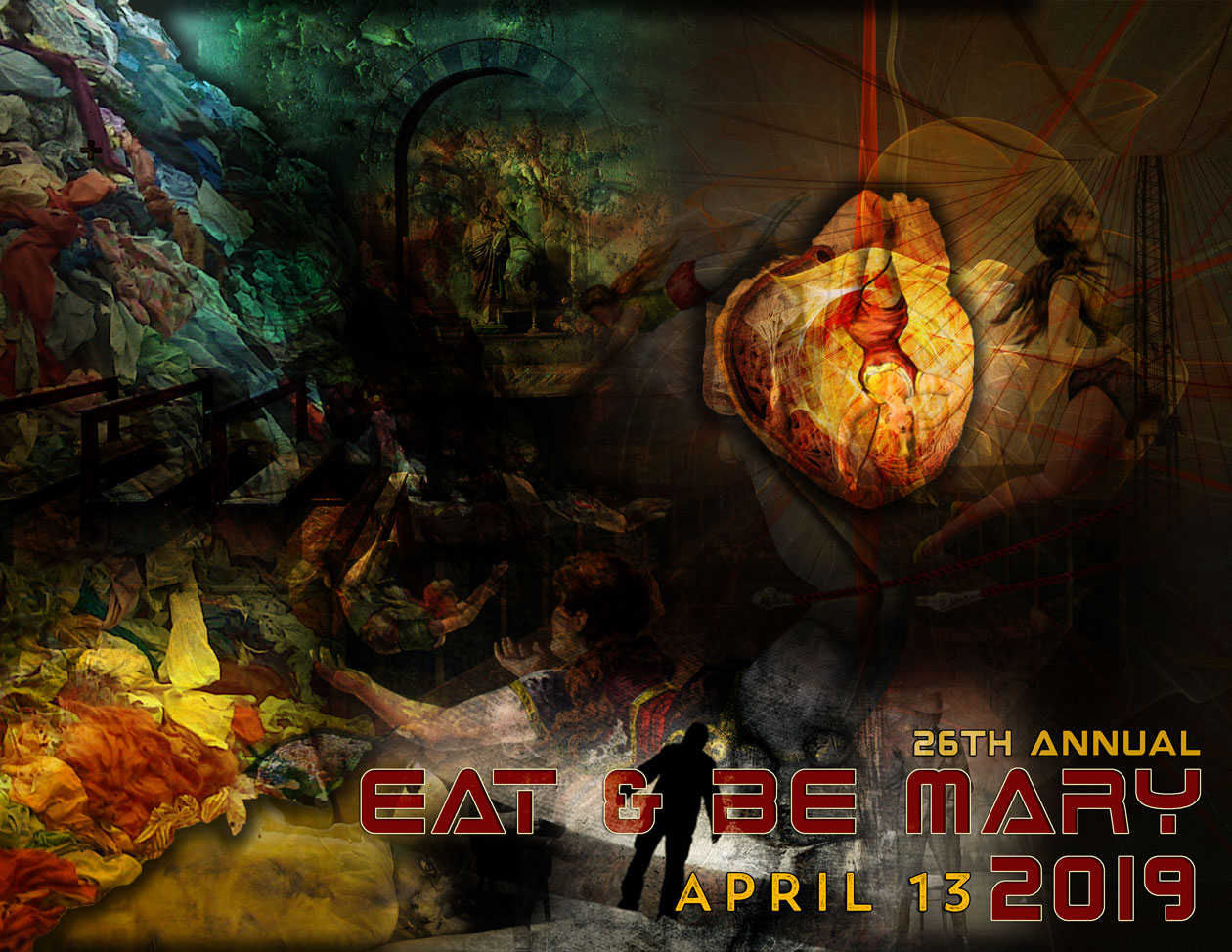 THE 26th ANNUAL EAT AND BE MARY!

Potluck • Clothing Swap • Fashion Show
DETAILS and LOCATION*****
Saturday, April 13th, 2019
1037 Murray Street, Berkeley, CA 94710
This is a community event :: LEND A HAND (see below for volunteer information)
Bring ALL your CLEAN CLEAN CLEAN clothes to swap (see below *****)

Delectable morsels to share (there is NO on-site kitchen)

A fork

A plate

A sense of humour & unbridled enthusiasm
********************************************************
VOLUNTEER :: Come help us set up at 1pm on Saturday (day of) and/or 12:00pm on Sunday (the day after) to help clean up. For this you will receive eternal enlightenment!
********************************************************
HELPFUL HINT #1 :: Bring your clothes in a bag you want to keep – it can double as a stash place for your booty
HELPFUL HINT #2 :: Keep an eye on your keys and any clothing you do not wish to lose (i.e., what you wore in, your shoes, your jacket – you'd be surprised how many people forget this). The pile is very absorbent!
***** This is not just an ordinary potluck *****
S P R E A D T H E W O R D – but
PLEASE DO NOT forward or post to any lists!
This is a community event and needs to be spread word of mouth in order to keep it at a manageable size. Thank you for your cooperation..
Please bring all the CLEAN clothing you've been meaning to give to Goodwill or wherever. And don't bring just crap, we will use it in the Fashion Show. At the end of the night whatever clothing is left will be donated to Swap O Rama Rama. A nything left after that will be donated to the St. Anthony's Foundation which provides clothing to homeless & low-income families free of charge. http://www.stanthonysf.org/
This event is a huge undertaking. Unfortunately, this event will not happen without your help. Help create a true labor of love that has brought so much unbridled silliness to so many people for the past 26 years.
Call today – don't delay!
Please give back to the event ::
* Saturday 1pm – April 13th
* Sunday NOON – April 14th
3. Help organize the FASHION SHOW
5. If you can think of something that will add to the event or something you've always wanted to unleash on the masses – this is your big chance. Let me know.
Still uncertain of the concept?
Check out this amazing Tomlapse video from past years (thanks to the kind & talented thomas and peef).